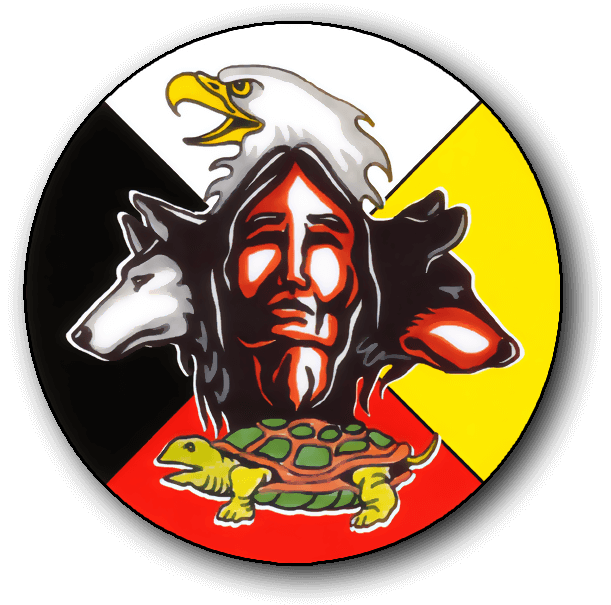 We would like to take this opportunity to thank Richard Kamalatisit for designing and donating this logo to the Timmins Native Friendship Centre. Here is an explanation of what our logo means:
IN HARMONY - The title of our logo is "In Harmony". It consists of the four colours. Harmony in the four medicine colours, four races of man, four directions and four seasons. The four clans are represented as: WOLF: the provider and skilled hunter EAGLE: spirituality BEAR: strong medicine TURTLE : Mother Earth
Man is in the middle. It is his responsibility to live in harmony with the environment, his brothers and the animals.
A Brief History of the Timmins Native Friendship Centre (TNFC)
A small group of dedicated people came together with a dream to provide a safe gathering place for the Native community. From those first early steps the Timmins Native Friendship Centre was established in 1974. This realization was influenced largely by arrival of Indigenous peoples who had to leave their home reserves to seek employment or to attend the local education institutes. The main concern was with the increasing number of First Nation students coming from the surrounding coastal communities to attend the local secondary and post-secondary schools. It was generally felt by the founders of the Timmins Native Friendship Centre that these students need to be provided with a positive environment, which would reflect their academic performance in a positive way.
The Timmins Native Friendship Centre became incorporated in 1976 and received core funding in October 1982 from the Secretary of State through the Migrating Peoples Program. The current source of the Core funding is Heritage Canada's Indigenous Friendship Centre Program (IFCP), which is administered by the National Association of Friendship Centres (NAFC) through a contribution agreement.
The Board of Directors and TNFC Employees are dedicated to carry out its aims and objectives, and to ensure that a healthy atmosphere be provided to the Indigenous community. More importantly, the TNFC responds with programs that support the cultural heritage of Indigenous peoples and assists in their inclusion and participation in urban life. With this support we strive to improve the quality of life for urban Indigenous peoples living in the Timmins area by providing intervention, direct services, advocacy, and support in the areas of health, education, culture, recreation, and social services. We are committed to providing a place of re-discovery and opportunities for learning new ways to live in a healthy way.
Our vision is to provide a culturally safe environment that creates a sense of belonging for urban Indigenous people while creating unity within all communities in the Timmins basin.
Our mission is to strive to provide positive growth and change while supporting one's spiritual, emotional, mental, and physical well-being within a culturally diverse community. We commit to doing this with understanding and dedication while respecting individual values and beliefs.
Our mandate is "to improve the quality of life for Indigenous people living in an urban environment".